Sara Essert
Anywhere (arheo) seeds everywhere
Sara Essert works at the Department of Biosciences, Faculty of Science, University of Zagreb. In her scientific work she studied plants, primarily by analysing plant residues (seeds, fruits and trees) from archaeological sites, in order to better acquaint themselves with the food, agriculture, trade, ritual and other activities of the then population.
Except in the field of science, he is happy to spend her time working with students and educative workshops with children.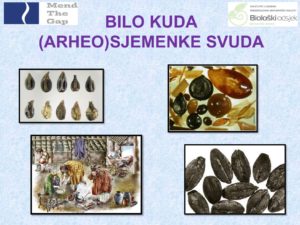 Dana 23.04.2018. godine Sara Essert održala je u Arheološkom muzeju grada Zagreba radionicu za 19 učenika 3. razreda osnovne škole "Josip Juraj Strossmayer" u Zagrebu. Naslov  radionice bilo je "Bilo kuda (arheo)sjemenke svuda". Cilj radionice bio je upoznati učenike sa zadacima koje jedan arheobotaničar u svom radu susreće te omogućiti djeci da se i sami okušaju u determinaciji sjemenki.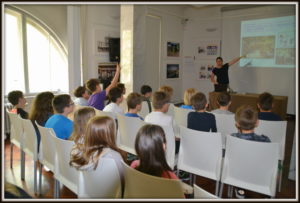 Prvi dio radionice obuhvaćao je kratko predavanje o hrvatskom Apoxiomenu, koji predstavlja jedan od najzanimljivijih novijih antičkih nalaza te na zoran način pokazuje važnost interdisiplinarnog pristupa prilikom slaganja kompletne priče o nekom arheološkom nalazu (ili lokalitetu). Djeca su na interaktivnom predavanju čula priču o nalasku i restauraciji tog brončanog kipa te su na slikama vidjeli pronađene i determinirane biljne ostatke nađene u kipu.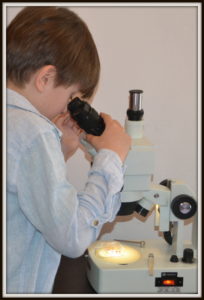 U drugom dijelu radionice, sva su djeca imala priliku sama pod lupom uz pomoć predavačice prepoznati i razvrstati neke od 15ak različitih sjemenki djeci poznatih biljaka (maslina, trešnja, ruža, krastavac i dr.). Osim determinacijskog rada na lupi, djeca su također imala ponuđene razne lijepe sjemenke i plodove divljih biljnih vrsta te su ih promatrali pod lupom i crtali u raznim tehnikama.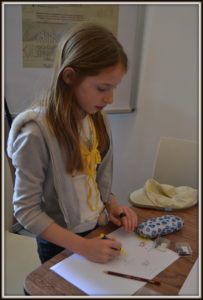 On Monday, 23/04/2018 in Archaeological Museum in Zagreb, 19 pupils of the 3rdgrade of elementary school "Josip Juraj Strossmayer", attended the workshop held by Sara Essert, with the title: "Wherever you look, the seeds are everywhere". The aim of the workshop was to familiarize students with tasks that an archaeobotanist meets in his work and to allow children to have a try at the determination of the seeds.
The first part of the workshop included a brief lecture on the Croatian Apoxiomen, which is in Croatia one of the most interesting and popular recently found Roman statues and shows in an obvious way the importance of an interdisciplinary approach when composing a complete story about some archaeological object (or site). In an interactive lecture, the children heard the story of finding and restoring that bronze statue and in presentation they saw photos of plant residues found inside the statue.
In the second part of the workshop, with the help of the lecturer, all the children had the opportunity to sort and identify some of 15 different seed species that are well known to the children (olive, cherry, rose, cucumber, etc.). The children also got to know another 15 different beautiful seeds of wild plants, watched them under magnifying glass and drew them.
Radionica – arheobotanika za trecase